lyracian
Sep. 26th, 2010 05:12 pm Hi Ho, Hi Ho, Its off to University I go.

Summers is over and I am starting at Uni again tomorrow. Doing a PGCE to become a Secondary School Mathematics teacher. A whole new career (and challenges) ahead of me. :o)

We spent today at West Midlands Safari park. Cassandra loved seeing all the animals.

5 comments - Leave a comment
Jun. 14th, 2008 09:18 am Beanie is still loving hotel Mummy.

So unless today is the day that Beanie wants to stay in control, as of 7.30 tonight Tamsin will be unreachable. Then tomorrow will be INDUCTION day and the process they say can last just 6 hours or a few days. So please beanie go for the middle!

I look forward to letting everyone now if Beanie is Robin or Cassandra.
Thank you in advance for positive thoughts.

Love Tamsin and Michael parents in waiting.

3 comments - Leave a comment
Mar. 16th, 2008 09:58 pm Dear Diary 2008

Salutations All,

Last year I aimed at doing a monthly update to keep everyone up to date on what was happening. With my mother being ill and everything going on this sort of fell by the way side at the end of last year and I have not written much for a while. So as I have a little time this evening I thought I would record a few thoughts for posterity. If anyone missed the big news from the end of last year, Tamsin is now pregnant, we are calling them Beanie at the moment as we are keeping the gender a surprise until the birth. They are due on the fist of June. Last weekend I was able to feel Beanie kicking for the first time and Tamsin says she was a foot pressing against her belly for the fist time this week. Tamsin only has one more week working at the school and then she is on maternity leave. Our conversion of the spare bedroom into a Nursery has been helped by Coral and Malcolm decorating it and we have a bag of baby clothes from other friends. I have adjusted to our other new addition, Fizz the dog and I enjoy taking him for walks and playing catch. He is a very active dog and I think he would play catch all day long if we let him! The only time he has been too tired to play is the day after my brother took for a six hour walk in the Derbyshire hills.

While the name will not mean much to most of the people who read this Gary Gygax died last week, he co-created Dungeons & Dragons the fantasy role-playing game (RPG) that has been the focus of my hobbies for the last twenty-five years. Reading about his death made me realised that almost all the friends I have I met thought playing games. While I have not always paid D&D it and other games kept me going through my teenage years. I carried on playing them at University and while there I started going to weekend gaming conventions and begin playing collectible card games. After Uni I spend a few years going to Live Action role-play events before my dislike of camping and the rather repetitive nature of the events meant I went back to the warmth of indoor gaming. With the release of Heroclix I got heavily into miniature war gaming something I had only dabbled with beforehand, I even started my own games club so that I would have people to play with regularly. We have now merged with another Leicester War Games Club since we both had a dwindling number of players. Due to both the rules and tournament changes that have happened to 'clix in the last year my focus is shifting to Blood Bowl (a game I had not played for about 15 years) and I have joined in an online league. One of the advantages of having spent my money on Collectible games is they still have a resale value. I have sold off £150 of cards which has paid for most of what I have spent on Blood Bowl, and if nothing else has made it a cheap transition from one game to another!

2 comments - Leave a comment
Nov. 10th, 2007 04:47 pm Due into this wicked world on 1st June 2008.

Salutations Folks,

We are back from the Hospital after Tamsin's first scan and can confirm that she is pregnant, here is pictures of our little Baby-to-be
http://www.facebook.com/album.php?aid=19476&l=e36c3&id=540092038

Current Mood:
happy


4 comments - Leave a comment
Aug. 4th, 2007 06:50 pm Dear Diary

Salutations Readers,

I have not written anything for a while and trying to settle into our new house in Enderby has been taking up time as we sort through boxes and decorate the main bedroom. We have the downstairs just about finished (at least for the time being). Tamsin with the help of her parents has done most of the main bedroom while I have been at work and that should get finished off next week, then we can get the new bed delivered.

Tamsin has been in hospital for her operation and she is recovering well. She had to get Barry to come and pick her up the next morning as my phone decided to have an electronic heart attack and just died! No matter what I tried it would not restart. I used Tamsin's old handset for a few weeks and then Anita kindly gave me her spare handset. It is all set up with Teen Titan ring tone and backdrop from when Anita used it, which is quite cute as I like them as well. Having had one phone for so many years I am adjusting as I still do not recognise the ring tone as mine! My mother is also in hospital with what seems to be some form of epilepsy. The doctors are running tests and trying out different drugs to find out what they can use to keep it under control but it is slow progress. Mean while my mother is having to deal with the bureaucratic nightmare of her incarceration and the barely functioning PatientLine TV/Internet/Phone service.

For a break we went down to Dartmouth and Kingswear in Devon for a week and had a wonderful time. The car was parked about a half mile from the holiday cottage we were in and we did not use if for a whole week! There were two ferries across the river that took us into Dartmouth and we used those and then explored the area. One day we went to the the castle and other we went on a wildlife cruise along the Devon coast. It was a wonderfully relaxing time.his

We have been having more car trouble including the engine braket snapping when I was half way to work so we have joined Green Flag for the peice of mind. My project at work has been delayed until mid September, not because we do not have the man power to get it done for August, but because Marketing have decided to launch a new product and the first of September at that could not happen if we lauch over the bank holiday weekened. Wally continues to show his incompetence, the week after he goes on holiday four other staff are kept entertained for over a day each sorting out the mess he has left and his failier to follow procedure caused a loss of £20,000! My manager retired this week and discussing Wally at my appraisal commented "he thought wally was doing quite well"!

Leave a comment
Aug. 4th, 2007 06:26 pm My Clix Display Case

As a house warming present my parents got me a display case from Ikea.
I purchased some transparent boxes from Ebay to created a tiered display showing off my collection of Super Hero Models.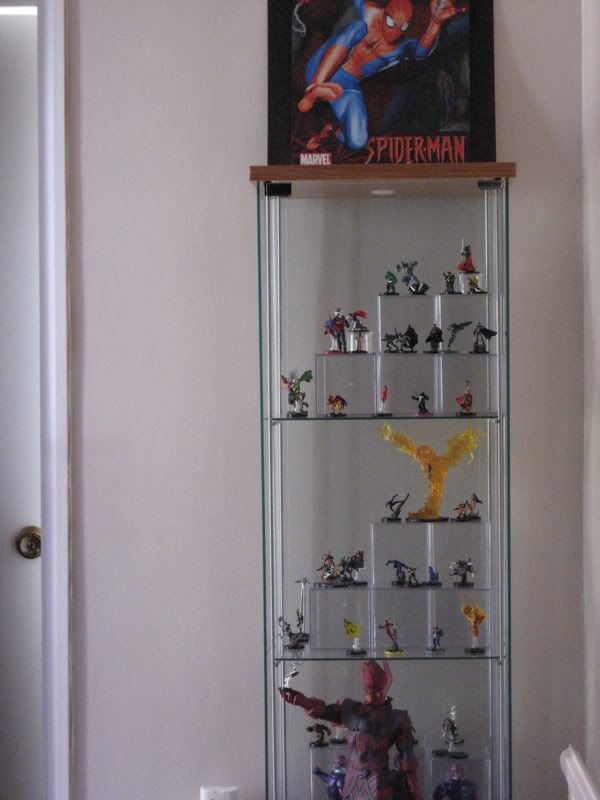 More pictures here
http://s117.photobucket.com/albums/o49/lyracian/ClixDisplay/?
Leave a comment
Jun. 22nd, 2007 10:57 am Dear Diary

Home Sweet Home
I have not written much for a while as with moving house not only am I back to dial up Internet, I have also been very busy sorting out the house. The aim is to redecorate the main bedroom (neither of us liked the flowery wallpaper) so while I was out last week Tamsin stripped the walls. We used the Home Base vouchers from our wedding collection to purchase the paints. Unfortunately we have found that the bedroom window has been badly fitted so is leaking at one corner, another task for use to get sorted over the summer.

Downstairs is looking much better as we have practically finished unpacking everything for the lounge-diner and kitchen. I had a day off work last week waiting for our new cooker to be delivered, and we have a dishwasher in the kitchen too! We kept the lounge carpet from Tudor Road, since it was a main part of our wedding collection, and will be getting it fitted into our Utility room (converted garage) after we have had an electrician sort out the plugs and fuse box (another one of our summer tasks).

All the bedrooms have fitted wardrobes. Since the blue room has been designated the library we plan to add an extra shelf there to convert it into a massive bookcase which should then hold over one thousand issues of my 2000AD comic collection. Making them easy to access and read by both myself and visitors.

Now that we have moved I am getting more exercise by walking to work. It is 1.3 miles door to door and takes me about twenty minutes. Some days i have got a lift half-way home as i am still building up my fitness level. Since moving I have been waking up about five am, it took me a few days to realise that it was the bird songs disturbing me! Now that I am aware what it is I am starting to go back to sleep.

Wizkids UK Nationals
While not as prestigious as Wimbledon or the Grand Prix June also saw the UK Nationals for my superhero war gaming, which is essentially an excuse by the manufactures to promote the game whilst clearing out old stock. It was £25 entry which included a goody bag (worth £30 retail) and the three boosters (another £15 retail) for the sealed event. The format was three three round events after which the top sixteen players qualify for the knock out rounds to try and win a factory set.

I did quite well on the Saturday finishing about tenth out of 45 players after six rounds. Unfortunately I could not seem to get into gear on Sunday, so by the start of round nine I was fifteenth. Managing to loose that game too I did not get into the knock out. Happily there was a side event for the thirty or so players eliminated so I played and won that Sunday afternoon!

Leave a comment
Jun. 3rd, 2007 08:10 pm UK Games Expo - 2nd/3rd June 2007

UK Games Expo
This weekend I went to a games convention in Birmingham. They had decided to go upmarket and make it into more of a showcase event rather than a small con. They had a number of the Star Wars reenactors in full costume wandering around as well as many games companies showing over there latest releases. I spent the Saturday wandering the trade and demo rooms trying out new versions of building and strategy games. I purchased a new B-Movie themed game where you play mad scientists trying to animate your monster, with the cards representing body parts or angry villagers.

Sunday was Heroclix day for me and, as usual, the event was rather late starting but once we did it kept up entertained all day. It was a scenario themed event where we played superhoeros fighting against Aliens and Predators. So in one battle we had to defend from facehuggers, in the next Predators and finally Aliens guarding there eggs. I did well in my matches and got into the final where in two man teams we were battling to help or prevent the Predator ship from leaving earth with the Alien eggs. Each side started in control of one engine [the objective] and I managed to be victorious with a stratagy of tunneling thorugh the walls to get to their engine while guarding our own. For this I got a really good prize of both an Alien & Predator boxed set (£15 retail each). I sold one and kept the other. It was a sealed event and both Wayne and myself managed to pull a Chase figure from our boosters, and as these are figures found only 1 per 400 boosters we were both very lucky! As you have to make a minimum purchase of £60 to get the convention figures I picked up some Boxed sets for friends to reach this amount. Thus I got over £100 of product for a final spend of £28 + Petrol:
3 Origin Boosters containing Unique Superman and Lois Lane chase
3 Collector Sets (Hellboy & two Aliens)
5 Limited Edition Figures
Batman & Thor Convention Exclusives
Sundry other game promos to sell on ebay.

Moving House
I am still pending of the solicitor sorting out the house move but am hoping that it will go thorough next week. I should have some news in the next couple of days. Until then we are still staying with our very understanding friends Barry & Louise. As it was half term I had Friday off work and took Tamsin up to spend the weekend with her parents in Lincoln, where we had a pleasent night out.

Leave a comment
May. 3rd, 2007 12:44 pm Twenty-Four Hours (no not the TV program)

May the Forth be with you.
Tomorrow is Star Wars day. It is also the day I become very rich.... for about thirty days, then i will be poor for about ten years. This is because my house sale is going through tomorrow but my purchase is delayed. My parents and friends have had so many troubles over the years with house moves I also said i would not get stuck in a chain and would rent if needed. Fortunately Barry & Louise are letting us stay at theirs and the furniture is going in storage.

I have spend the last week packing one box after another. The pair of us have accumulated a lot over the last thirty years - mostly books. I have just had my dinner of left overs pie since we defrosted the freezer yesterday. I did two trips to the skip yesterday and and filling the car up with bin bags of junk while packing the last few items. Just got the kitchen left to tackle...

Tales from the Workplace (Names are changed to protect the Guilty)
We had an incident with some money appearing in a closed General Ledger account. Wally spent five days looking into it after which time he closes the ticket stating "Unable to locate account insufficient information". The Alternator is so incensed by this he spends two hours investigating, after which time he has located the account in question and the reason for the accounting error and informed the users what they did wrong (reactivating an obsolete account, rather than opening a new one for the customer). Meanwhile Wally gets given a bottle of Champagne for all the hard work he is doing (I kid you not).

Wedding Anniversary
For our anniversary we spend the weekend down near Stratford visiting it and the nearby Roman villa. On our return we discovered an exhibition of Tolkeen art in Stow-on-the-Wold so went around that rather than the National Trust stately home we had planned!

I expect I will have rather intermittent Internet access for the next couple of months so if anyone want something urgent I suggest you phone!

Save the Cheerleader, or don't it is entity up to you...

Leave a comment